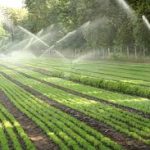 We maintain over 250 Service clients across County Dublin including all types of irrigation systems. Our customers vary from the farming industry to private gardens and residential landscaping services.
Service holders benefit from free call out rates and discounts on all the products used, with guaranteed response times and attendance. Costs are shared with other customers in the same area wherever possible. Our service contracts include a minimum of two visits by our experienced engineers during the year.
One in the spring to test and commission the system followed by one in the autumn to test and de-commission the system – ensuring all pipes are drained correctly for the winter months for complete peace of mind. Detailed written reports are submitted after each visit. All extra works are agreed with customers prior to commencement and can be quoted if necessary.
On the servicing side we have a small team of experienced technicians who are trained to ferret out problems and fix them. If you have an irrigation system that needs a few repairs, give us a call or email & we will get our of our service teams around. Our prices are fair and we aim to satisfy.
We primarily work in the turf irrigation market. We are based in County Dublin so we are well equipped for the Dublin areas. However, as we grow we are finding that more of our projects are scattered all over the country; from Wicklow to Kildare, Meath and Drogheda.